Hispanics are the largest minority group in the US labor force. In 2018, the Business Labor Bureau calculated that 3.4 million workers in the US were Hispanic or Latino, and they project that the number of Hispanics in the labor force will be about 7.4 million from 2018 to 2028 (see BLS Chart below).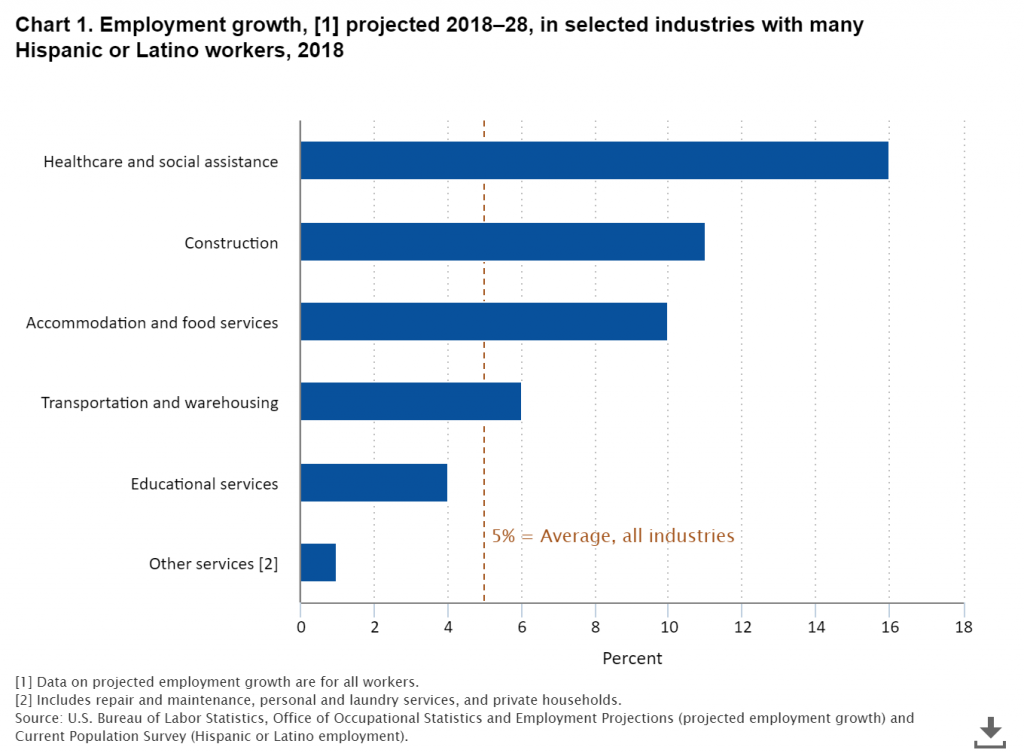 According to the US Census, the population of Tucson is roughly 548,000 and 43.6% of that number is Hispanic or Latino. 2019 data shows that the Arizona population is 7,278,717, of which 31.7% is Hispanic or Latino.
For over 24 years, Arizona's Hispanic Chamber of Commerce has published DATOS: The State of Arizona's HIspanic Market. This report is a compilation of extensive research regarding the impact of Hispanics in the Arizona Marketplace. IT also shows the overall impact of the state's growing Latino Population. They publish yearly reports and findings about Latino and Hispanic people's impact on a broad range of issues including demographics, small business ownership, healthcare, and education, to name a few. The 24th annual report showed that the Hispanic population growth continues to help fuel the national economy (including Arizona). According to the report, Latino buying power is projected to reach $1.9 trillion by 2023, only three short years away. In Arizona alone, the number will reach $57.2 billion by 2022. From June 2009 to June 2019, Latino-owned businesses grew by 34%.
This information tells us that the Hispanic and Latino workforce is consistently growing and is projected to do so for the next three years. Regardless of the challenges this minority group may face, statistics prove that it is not only growing, but helping the national economy.
"There is always going to be prejudice, and there is always going to be someone who doesn't like you or your work. But as someone with a successful business that makes me happy, I encourage others to do something they love regardless of the challenges" says Ralcon Owner, Ramon Soto.
Ralcon is an LLC located in Tucson, AZ. Their scope of work covers all phases of construction, from residential to commercial, with a culture dedicated to detail. Their services include full renovations, remodels, kitchen and bath design and remodeling, load bearing wall reconfiguration, additions and enclosures, new custom home design, and construction.They take pride in operating with the utmost integrity, and they offer unparalleled customer service, expertise, quality, and experience in this line of work. They work tirelessly to meet their customers' needs.
For more information please visit: Https://ralconaz.com