Ho Chi Minh City, Vietnam, 8th Nov 2021, ZEXPRWIRE, Vietnam Clothing & Textiles Manufacturer continues to be a key supplier of uniforms & workwear to other countries despite global supply disruptions
A high-quality apparel source has been found for global uniforms and workwear suppliers, as the company ventures into new markets
Following a pandemic that disrupted supply chains nearly everywhere around the world, Dony Garment continues to lead the industry by supplying reasonably priced, high-quality uniforms and workwear to suppliers worldwide.
Dony Garment CEO, Pham Quang Anh (Henry Pham) asserted, "We find great pride in being the leading uniform supplier in the Americas, Europe, and the Middle East from Vietnam." "Our connections with international firms have strengthened over the last two years, underscoring our position as the first and most appreciated uniform supplier."
According to Pham, one reason for the company's sustained success has been its absence from typical centers of global uniforms & work apparel manufacturing.
"We are prepared to take advantage of clients' desire to diversify their supply sources," he said. Because we are located in Vietnam, we avoid many of the problems associated with trade in China, Bangladesh, and Thailand. Our clients are very grateful for the care and attention we provide throughout our entire manufacturing process."
"The last few years have taught us how to capitalize on being a trusted industry partner by offering a reasonable price for high-quality products from outside the local market. Clients see the value from the very first moment they discover the products we offer from outside the local market."
DONY manufactures a range of practical workwear such as workout clothes and activewear, T-shirts, pants, jackets, aprons, school and cheerleading uniforms, clothing for industry, for office professionals and for wholesalers and distributors worldwide.
All of the items in the DONY lineup can be customized, so the client will get a high-quality garment that will not only serve as an advertising method for their business, but also stand out from the crowd.
Pham said, "We've done everything.". He added, "Our clients know Dony Garment can supply their supply needs, from sports and fitness clothing, coffee shop aprons to shirts, pants, and dresses."
Workwear was designed for nearly every industry.
Whether your staff works in corporate or enterprise environments, spas and resorts, Dony Garment will ensure they look professional and comfortable at an affordable price, said Pham.
DONY also manufactures school uniforms for schools across the country along with uniforms for industry. Vietnamese American School (VASCHOOLS), American School (TAS), International School of North America (SNA) are just a few of the international schools it manufactures uniforms for.
Having a presence in Vietnam gave Pham's firm some advantages, but its continued success is attributed to the fact that they deliver quality products on time.
"The timely delivery of a garment is a cornerstone of our business, so for us it is essential to get the delivery out on time," Pham said. "But we don't compromise on quality. We will happily fix any issues our clients encounter, which is rare."
"It is our aim to provide one-stop shopping for all those businesses that utilize our free sample program, low cost and free design services. We work with numerous clients who happily return to use our services again and again."
Many of those clients already exist in DONY's portfolio of trusted businesses in numerous countries around the globe, but Pham said the company is always seeking to grow.
"I always welcome a chance to talk with a company about how we can be their apparel supplier wherever they are," he said. "The demand for antibacterial cloth face masks has been on the rise recently, especially since countries have been looking to add them to their required attire. We were one of the top suppliers of reusable antibacterial face masks during the early days of COVID, and we remain so today."
"We offer branded and customized face coverings with your company's logo, allowing your business to advertise as well as provide a barrier against virus transmission. Our products are lightweight, durable, and certified by health departments around the world."
"We take great pride in having the highest quality clothing options for employees, but when it comes to face mask protection, we take that responsibility seriously with the Dony Mask."
"As of the third quarter of 2021, Dony Mask has exclusive distribution in Australia, New Zealand, Belgium, Malaysia, the UAE, Canada, KSA, Kuwait, Oman, Bahrain."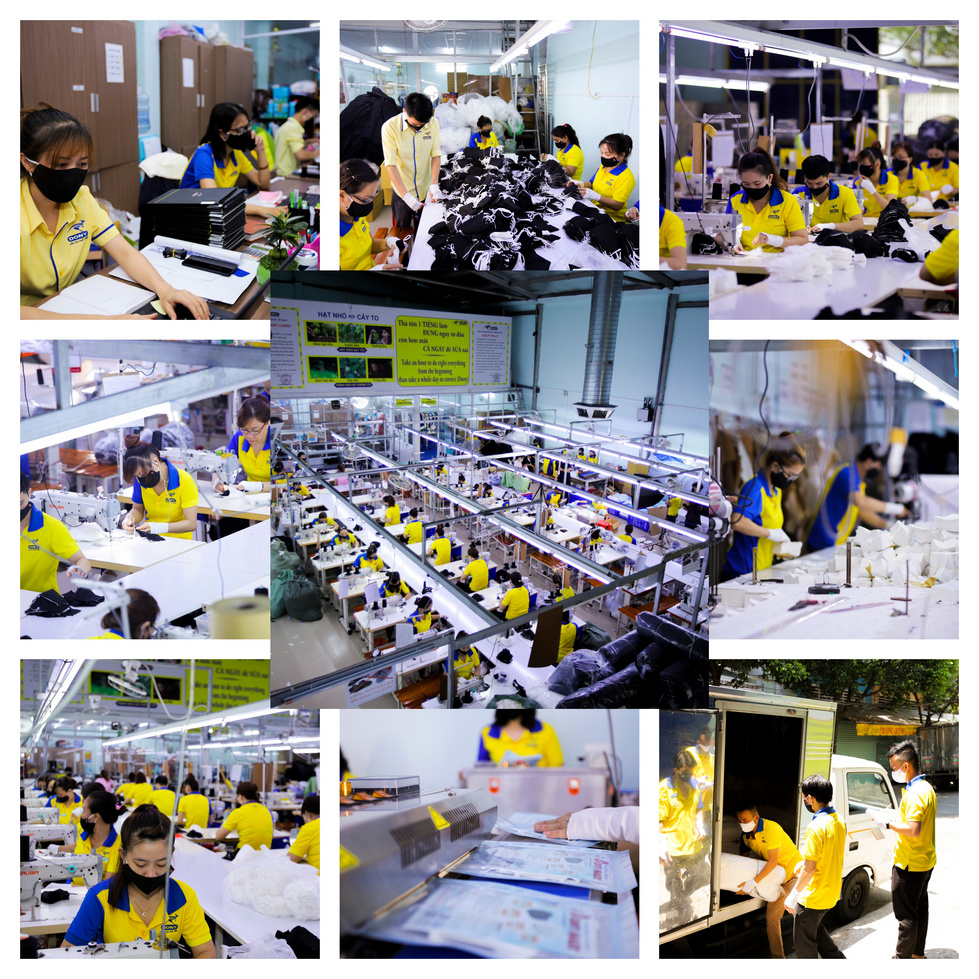 About Dony Garment:
Established in 2009, the Dony Garment Company, a subsidiary of Dony International Corporation – One of the largest clothing manufacturers in Vietnam for making workwear, uniforms and fashion clothing. 
In 2020, DONY responded to the Covid-19 crisis by pivoting its activity to the manufacture of COVID 99,99% Antibacterial Cloth Face Mask and exported around the world including America, Europe, Australia, and Asia.
In the evening of 5th June 2020, Dony Garment Company and other Vietnamese enterprises have donated medical supplies to the US"s people.
At the Ceremony of Offering Medical Materials to the United States, Dony presented 100,000 antibacterial gauze masks worth more than VND 10.5 billion. Overcoming many businesses that have signed up to give antibacterial masks, through testing, only Dony Mask has met the quality standards for use in the US.
It's a big honor for DONY. Dony Mask is the only available reusable face mask that successfully passes through multiple quality checks, to be accepted for use in the U.S finally.
Mr. Daniel Kritenbrink, U.S. Ambassador in Vietnam has extended his heartfelt gratitude and confirmed that Operation USA Organization which based in Los Angeles, USA will distribute these medical supplies to needed places such as California, New York, etc.
Henry Pham, CEO of Dony Garment, said his company had been significantly impacted by the pandemic, both in good and bad ways, so they understood what kinds of adversity other firms and people around the world face.
"At a time when the disease is spreading in other countries, we want to contribute more to the international community. Since the beginning of the pandemic, we have deducted 5 per cent of Dony's entire revenue, from apparel to cloth masks, to the community.
The website garment.dony.vn provides more information about Dony.
Their social media presence also extends to LinkedIn and Facebook.
The company also has an official YouTube channel where a short video is available.
Media Contacts
Name – Mr. Henry Pham
E-mail – [email protected]
Phone no – +84985 310 123
Company – DONY GARMENT
Country – Vietnam
Address – 142/4 Bau cat 2, 12 Ward, Tan Binh District, Ho Chi Minh City, VietNam.
The post DONY GARMENT become a major uniforms supplier for the US, EU, MENA appeared first on Zex PR Wire.
Information contained on this page is provided by an independent third-party content provider. Binary News Network and this Site make no warranties or representations in connection therewith. If you are affiliated with this page and would like it removed please contact [email protected]