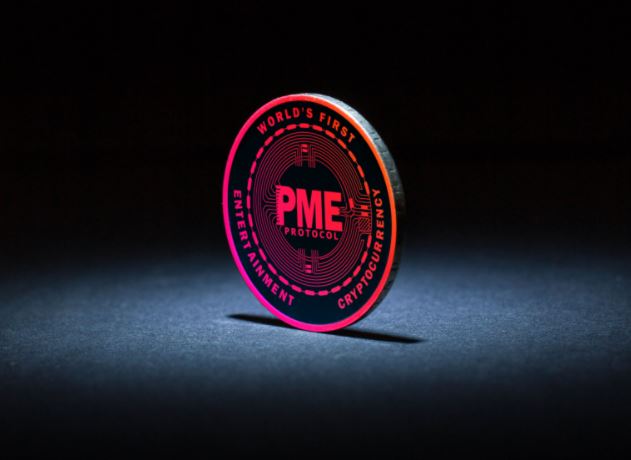 Dubai, UAE, 13th Nov 2021, ZEXPRWIRE, Cryptocurrency is decentralized digital money, based on blockchain technology. You may be familiar with the most popular versions, Bitcoin, Ethereum, Binance Coin, Cardano and Tron but there are more than 14,044 different cryptocurrencies in circulation Today, according to Coinmarketcap. You can use crypto to buy regular goods and services, although many people invest in cryptocurrencies as they would in other assets, like stocks or commodities. While cryptocurrency is a novel and exciting asset class, purchasing it can be risky as you must take on a fair amount of research to fully understand how each system works. Cryptocurrency can be of many types. A New type of revolution in Cryptocurrency world is Entertainment Based Cryptocurrencies. PME PROTOCOL (PME) is one of the Newly Launched Entertainment Cryptocurrency.
PME PROTOCOL (PME) – World's First Entertainment Cryptocurrency is a Blockchain Based Entertainment Protocol. PME aims to create all in one Blockchain and Entertainment Ecosystem. PME PROTOCOL is the official payment gateway of Portfolio Managing Events. PME PROTOCOL (PME) is Backed by PME World. Portfolio Managing Events is an international events & music organization headquartered in Dubai, United Arab Emirates. It has a vast network of artists, talents, venues, promotions, marketing companies, and other professional teams that enable it to produce spectacular shows and events all over the world. PME has representatives and associations on six continents and over 30 years' experience in the fields of events production, media, marketing, and sports management. PME PROTOCOL (PME) is the Official Payment Gateway of Portfolio Managing Events.
PME PROTOCOL (PME) is gigantic, and it engages thousands of individuals all across the world. PME PROTOCOL's Entertainment and Finance Manifesto is coming up with new talent from every corner of the globe, blockchain technology, along with PME, can provide a more effectual platform that will fasten individuals in this highly lucrative but cutthroat industry. For far too long, this industry has been relying on age-old methods and has been relatively resistant to change. This is primarily in the feature of creating deals and finding ways to protect intellectual property. Therefore this industry needs a acute upgradation and we can attain it by adopting to PME PROTOCOL's Ecosystem. If you want to know more about the different kinds of benefits of Entertainment Finance and Cryptocurrency through PME PROTOCOL (PME) presence then you are at the right place. One of the biggest reasons blockchain technology is gaining force in PME PROTOCOL (PME) is that it helps conflict one of the biggest problems in this sector. Piracy is a huge issue that people struggle with; it is primarily a massive problem for small artists. With the help of blockchain technology, this problem can be easily solved. Blockchain technology and PME PROTOCOL helps artists worldwide to be connected to their fans as it minimizes any geographical mobility and Payment System. People around the globe can access content from their favorite artists and pay directly to receive content through cryptocurrencies without the need for any middle man. Similarly, anyone can Talk to His Favorite Artist, Buy International Concert Tickets, Book Celebrities, Get Event Managed and Get Production Done Through Cryptocurrency and Obviously Through PME PROTOCOL'S MVP.
Some More Benefits and Utilities of PME PROTOCOL Are:
⦁ PME Multicurrency wallet:
PME Wallet is a Multi-chain Digital Currency Wallet. PME Wallet supports
Binance Smart Chain, TronChain, Polygon Matic Chain, Ethereum and All Major Chains.
PME Wallet offers Staking of PME Token and many more incentives for PME Token Holders.
⦁ PMEX EXCHANGE:
PMEX Exchange – Powered by PME PROTOCOL is a Centralized Cryptocurrency Exchange.
PMEX aims to provide the highest level of security, transparency and customer service.
PME PROTOCOL (PME) Token is the native cryptocurrency of PMEX Global exchange.
⦁ PME STREAM:
PME Stream – (Powered by PME PROTOCOL) PME Stream is a Subscription-Based Streaming
Service that allows our members to watch a wide variety of TV shows, Movies, Documentaries
and Live Channels.
⦁ PME SWAP:
PME SWAP Powered by PME PROTOCOL is a Next Generation Multichain Automated Market
Maker (AMM) and Decentralized Exchange (DEX) platform. It is Powered by the native PME
PROTOCOL token (PME). PME SWAP combines many popular features into a single and easy-to-
use platform.
⦁ PUSD Stable Coin:
PMEUSD (PUSD) is a stable coin, a type of cryptocurrency which aims to keep cryptocurrency
valuations stable's is fully backed by U.S. Dollars: 1 PUSD = $1.00 USD.PUSD will Be Native Stable coin in PMEX Exchange and PME Ecosystem.
What are you waiting for? Register Yourself Now at https://pmeworld.io/ and Be a Part of PME's Ecosystem and Enjoy Full range of financial and Leisure Services.
Media Contact
Company Name: PME PROTOCOL
Company Email: [email protected]
Website : https://www.www.pmeworld.io
The post PME PROTOCOL Launched as World's First Entertainment Cryptocurrency appeared first on Zex PR Wire.
Information contained on this page is provided by an independent third-party content provider. Binary News Network and this Site make no warranties or representations in connection therewith. If you are affiliated with this page and would like it removed please contact [email protected]